Since independence from Portugal in 1975, Mozambique has been battered by civil war, economic mismanagement and famine.
A peace deal in 1992 ended 16 years of civil war, and the country has made much progress in economic development and political stability.
Overview
Portugal began to colonise the area that became Mozambique in the early 16th century. An anti-authoritarian coup in 1974 in Portugal ended colonial rule and its ten-year war with the Frelimo independence movement.
Politics:

Ruling Frelimo party's Armando Guebuza won presidential elections in 2004 and again in 2009

Economy:

Critics complain that Mozambique is pursuing capital-intensive, showpiece mega-projects that generate little social benefit; natural disasters have slowed post-civil war reconstruction

International:

Mozambican UN peacekeepers have served in Burundi



Mozambican support for armed groups fighting the white-minority rule governments in Rhodesia and South Africa led to those two countries sponsoring the Renamo movement, which fought Frelimo in the 1977-1992 civil war.
This conflict, combined with Rhodesian and South African intervention and central economic planning by the Marxist leadership of Frelimo left the country in chaos. About a million people died in the civil war and millions more fled abroad or to other parts of the country.
An attempt to secure a ceasefire with South Africa in the Nkomati Accord of 1984 broke down, and the government and Renamo eventually began talks brokered first by Christian groups and then by the United Nations. Frelimo inaugurated a new constitution in 1990 that enshrined free elections, and both sides signed the resulting Rome Peace Accords of 1992.
Frelimo has won all subsequent elections, some of which have been disputed by Renamo and smaller opposition groups. Political life has nonetheless remained stable, with Renamo continuing to work within the constitutional system.
Foreign investors are showing interest in Mozambique's untapped oil and gas reserves, and titanium mining is a growing source of revenue. Most of the population works the land, however, and infrastructure nationwide still suffers from colonial neglect, war and under-investment.
The economy suffered serious setbacks when in 2000 and 2001 Mozambique was hit by floods which affected about a quarter of the population and destroyed much of its infrastructure.
Furthermore, in 2002 a severe drought hit many central and southern parts of the country, including previously flood-stricken areas. Poverty remains widespread, with more than 50% of Mozambicans living on less than $1 a day.
Facts
Full name:

The Republic of Mozambique

Population:

22.9 million (via UN, 2009)

Capital:

Maputo

Area:

812,379 sq km (313,661 sq miles)

Major languages:

Portuguese (official), Makua-Lomwe, Swahili, other indigenous languages

Major religions:

Christianity, indigenous beliefs, Islam

Life expectancy:

47 years (men), 49 years (women) (UN)

Monetary unit:

1 metical (plural meticais) = 100 centavos

Main exports:

Seafood, cotton

GNI per capita:

US $370 (World Bank, 2008)

Internet domain:

.mz

International dialling code:

+258
Leaders
President: Armando Guebuza
Armando Guebuza, from the ruling Frelimo party, succeeded Mozambique's long-time leader Joaquim Chissano in February 2005.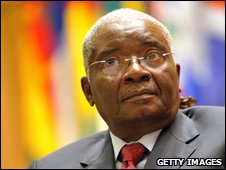 Armando Guebuza has encouraged greater foreign investment
He won another term in office in the October 2009 elections.
Frelimo, in power since it led the country to independence from Portugal in 1975, won 191 parliamentary seats out of 250 - enough to change the constitution at will.
Mr Guebuza, seen as welcoming of greater foreign investment, beat his rivals, long-time leader of the opposition party Renamo, Afonso Dhlakama, and the head of a new party, Daviz Simango, capturing 75.46 % of the presidential vote.
Mr Guebuza, a millionaire businessman, is under pressure to provide poor Mozambicans with the benefits of tourism and untapped mineral and energy resources that have started to draw foreign investors, particularly from neighbouring South Africa.
And Guebuza, who made his fortune in the energy, transport and port industries, faces the new challenge of accommodating a new generation that was not born in the liberation struggle nor the 16-year civil war against Renamo.
He was a member of Frelimo's armed wing and played a leading role in Mozambique's struggle for independence. As a former interior minister in 1975 he ordered the expulsion of Portuguese citizens from the country.
His predecessor, Joaquim Chissano, became president in 1986 after the death of founding president, Samora Machel. Mr Chissano oversaw a move away from Marxism and the introduction of a multi-party constitution.
Media
Television is the most popular medium in towns and cities, with state-run TVM, the only national network, and private STV topping the ratings. Portuguese state TV's African service, RTP Africa, and Brazilian-owned TV Miramar are widely-watched.
State-run Antena Nacional radio is a key source of news for many Mozambicans. Private FM stations operate in most towns. BBC World Service broadcasts to Maputo (95.5 FM), Beira (88.5 FM), Xai Xai (100.9 FM), Nampula (88.3 FM) and Quelimane (95.3 FM).
Dozens of community radio and TV stations are funded by the government and Unesco. Print titles have little influence in the countryside because of high levels of illiteracy.
The constitution protects media freedom, but criminal libel laws deter total freedom of expression. The opposition says it receives inadequate coverage in the state media.
By early 2008, 200,000 Mozambicans were online (ITU figure).
The press

Noticias - main daily, has government shareholding

Diario de Mocambique - private, daily

Demos - private, weekly

Zambeze - private, weekly

Domingo - private, weekly

Savana - private, weekly

Fim de Semana - private, weekly

Folha Universal - private, weekly
Television

Radio

Radio Mozambique - state-run, operates national Antena Nacional network and provincial and local channels in Portuguese, English and many indigenous languages

Radio Cidade - state-run, youth-oriented FM network

Radio Miramar - private

Nove FM - private

Radio-Televisao Klint (RTK) - private

Radio Maria Mozambique - Roman Catholic
News agency

Mozambique Pharmaceutical Industry Pharmaceutical and Medicine Manufacturing in Mozambique Pharmaceutical Companies in Mozambique Suppliers Manufacturers Exporters &amp Importers pharmaceutical manufacturers in Mozambique Drugs &amp Manufacturer, Pharmaceuticals Suppliers in Africa pharmaceutical technology asia pacific Manufacturing Industry in Mozambique Pharmaceuticals Manufacturing in Africa pharmaceuticals company from Mozambique List of African Pharmaceutical Companies pharmaceutical distributors Mozambique Pharmaceuticals importer in Africa Pharmaceuticals Manufacturing Phamaceutical industries in Africa list of pharmaceutical companies in africa List of Pharmaceutical Companies in Mozambique Mozambique PHARMACEUTICAL Pharmaceutical Company Directory African Pharmaceutical Industry Mozambique Pharmaceuticals &amp Healthcare Report Mozambique Companies