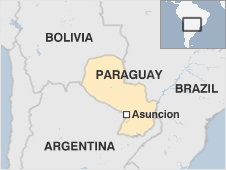 Paraguay one of South America's least densely populated countries experienced more than three decades of dictatorship under Alfredo Stroessner who was ousted in 1989 and died in exile in 2006.
The end of his iron-fisted rule did not bring political stability. Factional splits led to the assassination of a vice-president the resignation of a president and an attempted coup.
Stroessner's party the National Republican Association-Colorado Party survived his departure and remained in power until 2008. In elections in April it was defeated by the centre-left Patriotic Alliance for Change led by Fernando Lugo.
Overview
Up to 95% of Paraguayans are mestizos people of mixed Spanish and native American descent. Many speak the language of the indigenous Guarani; the rest are bilingual or only speak Spanish. There is a Japanese community a legacy of post World War II migration.
With few mineral resources Paraguay's economy revolves around agriculture. The 1990s saw slow steady growth but by 2002 the economy was in serious trouble partly because of a financial crisis in neighbouring Argentina. Emergency loans - conditional on economic reforms - were negotiated with the IMF.
Corruption is widespread and Paraguay is a centre for smuggling money laundering and organised crime.
The commercialisation of agriculture population growth and forest clearances have led to a dramatic increase in the number of landless families.
This has boosted migration into urban areas and shanty towns have burgeoned. Around 60% of Paraguayans live in poverty.
Much of the north-west is taken up by the Chaco a vast and largely uninhabited plain. Paraguay and Bolivia fought over it in the 1930s; the war left 100000 dead.
Facts
Full name: Republic of Paraguay
Population: 6.3 million (UN 2009)
Capital: Asuncion
Area: 406752 sq km (157048 sq miles)
Major languages: Spanish Guarani
Major religion: Christianity
Life expectancy: 70 years (men) 74 years (women) (UN)
Monetary unit: 1 guarani = 100 centimos
Main exports: Soyabeans cotton meat edible oils timber
GNI per capita: US $2180 (World Bank 2008)
Internet domain: .py
International dialling code: +595
Leaders
President: Fernando Lugo
| | |
| --- | --- |
| | Fernando Lugo |
Leftist former bishop Fernando Lugo achieved an historic victory in Paraguay's presidential election in April 2008 defeating the ruling party candidate and ending 61 years of conservative rule.
Mr Lugo won with nearly 41 percent of the vote compared to almost 31 percent for Blanca Ovelar of the Colorado Party.
The 56-year-old Mr Lugo served as a Roman Catholic bishop in one of Paraguay's poorest areas until stepping down in December 2006 saying he felt powerless to help the country's poor. He embarked on a political career promising to tackle inequality and corruption.
On taking office in August 2008 he vowed to deliver on land reform - a key issue in a predominantly agrarian economy.
But his party the Patriotic Alliance for Change (APC) does not have a majority in either house of the Paraguayan Congress and the Colorado Party which still has a strong presence in Congress has threatened to block his reforms.
In 2009 he resisted calls for his resignation after he admitted that he fathered an illegitimate child during his time as a Catholic bishop.
Media
Newspapers and broadcasters air a range of views including those of the opposition. But journalists investigating corruption or covering strikes and protests risk intimidation and media outlets sometimes face legal harassment.
Reporters Without Borders the media rights body said in 2007 that journalists "do not dare probe too deeply into scandals involving politicians".
Unlicensed radio stations have flourished in the "tri-border area" where the frontiers of Paraguay Brazil and Argentina meet.
The press

Television

Radio