Singapore is south-east Asia's hi-tech wealthy city-state which is also known for the conservatism of its leaders and its strict social controls.
The country comprises the main island - linked by a causeway and a bridge to the southern tip of Malaysia - and around 50 smaller islands.
Once a colonial outpost of Britain Singapore has become one of the world's most prosperous places - with glittering skyscrapers and a thriving port.
Overview
Most of its people live in public-housing tower blocks. They enjoy one of the world's highest standards of living but also a system of punishments for acts deemed to be anti-social.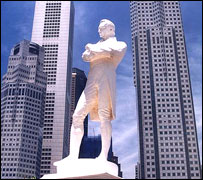 Britain's Sir Stamford Raffles saw Singapore's commercial potential

Government-led initiatives have encouraged Singaporeans to have more babies and to be more courteous. Citizens are urged to "Speak Good English" in place of a local slang known as "Singlish".
Chinese make up more than 75% of the community; Malays and Indians make up much of the remainder. There are many foreign workers.
Although Singapore is a multi-party nation the People's Action Party (PAP) has been the dominant force since independence. Rights groups have accused some politicians of using defamation suits to silence their opponents.
Singapore is often referred to as one of Asia's economic "tigers". Its economy is driven by electronics manufacturing and financial services and has weathered regional crises including the 1997 Asian markets slump and the 2003 Sars virus outbreak.
In the face of strong competition from regional manufacturers Singapore is seeking to strengthen its services sector and tourism industry.
The country was referred to - less kindly - by the writer William Gibson as "Disneyland with the death penalty".
Singapore argues that its use of capital punishment - applied mostly for drugs trafficking offences - has stopped the growth of narcotics syndicates.
Facts
Full name: Republic of Singapore
Population: 4.7 million (UN 2009)
Capital: Singapore
Area: 660 sq km (255 sq miles)
Major languages: English Malay Mandarin Tamil
Religions: Taoism Buddhism Islam Christianity Hinduism
Life expectancy: 78 years (men) 83 years (women) (UN)
Monetary unit: 1 Singapore dollar = 100 cents
Main exports: Computer equipment machinery rubber products petroleum products
GNI per capita: US $34 760 (World Bank 2008)
Internet domain: .sg
International dialling code: +65
Leaders
President: S R Nathan
S R Nathan began a second successive six-year term in September 2005 after the other contenders for the post were disqualified. Candidates must meet strict selection criteria.
Though fulfilling a mainly ceremonial role the president has the power of veto in key areas including government spending and can appoint senior civil servants.
Prime minister: Lee Hsien Loong
The elder son of Singapore's founding father Lee Kuan Yew Lee Hsien Loong took office in August 2004 without an election as part of a planned handover of power.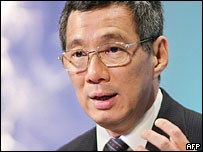 Lee Hsien Loong's succession was long-anticipated

He vowed to continue the policy of opening up Singapore's society.
A former army officer Mr Lee followed his father into politics at the age of 32 becoming deputy prime minister in 1990.
As finance minister in his predecessor's cabinet he was credited with helping to secure Singapore's competitive edge amidst growing competition from China.
Mr Lee's father who oversaw the transformation of Singapore into an economic power is the cabinet's official mentor - a newly-created post.
Goh Chok Tong Lee Hsien Loong's predecessor is the senior minister in the cabinet and thus the most senior advisor to the prime minister.
Media
Singapore's media environment is highly regulated. Censorship is common internet access is regulated and private ownership of satellite dishes is not allowed.
Government officials have a record of winning defamation suits against foreign publications. Media watchdog Reporters Without Borders says the press is "in the grip of a rigorous self-censorship" over its coverage of domestic politics.
Two players dominate the media scene. Singapore Press Holdings which has close links to the ruling party has a virtual monopoly of the newspaper industry. MediaCorp owned by a state investment agency operates TV and radio stations.
The two companies merged their free newspaper and TV operations at the start of 2005.
Political debate has found an outlet on the internet; however those who post political material are expected to register with the authorities.
Singapore is a regional pioneer of high-definition and mobile TV services. The government's multi-million dollar "Media 21" blueprint aims to turn the country into a regional hub for the digital media industry and to create thousands of new jobs in the sector.
The BBC World Service is available via an FM relay.
The press
Television
Radio