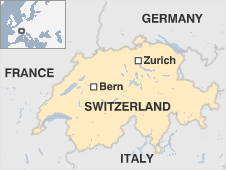 A landlocked mountainous country Switzerland's geographical position
in central Europe and studious neutrality have given it the access and political stability to become one of the world's wealthiest countries
largely through its banking industry.
Formally neutral since just after the Napoleonic wars of the early 19th century and informally for about 300 years before that Switzerland joined the United Nations only in September 2002. Surrounded by the European Union it is gradually engaging more closely with its powerful neighbour and other international organisations.

Overview
Although it lies close to the geographical centre of Europe and most of its trade is with its European neighbours it is not an EU member. A referendum in 2001 went against opening talks on joining.
Membership of the European Economic Area was also rejected by referendum in 1992 and Swiss-EU relations are now based on an extensive range of bilateral agreements.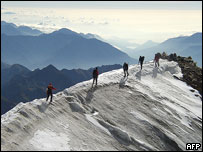 Swiss Alps: Mountains ring much of the landlocked nation

Ties became closer in 2005 when a referendum backed membership of the EU Schengen and Dublin agreements bringing Switzerland into Europe's passport-free zone and increasing cooperation on crime and asylum issues. A further referendum the same year opened the job market to workers from the 10 newest EU member countries.
At the same time Switzerland has been gradually aceeding to international pressure to allow greater scrutiny of its famously secretive banking sector amid growing concerns about money-laundering and the financing of terrorist groups.
A European cultural and linguistic crossroads about two-thirds of the population speak German around one-fifth French and about 7% Italian. Romansch the fourth national language is spoken by less than 1% of the population.
The people are given a direct say in their own affairs under Switzerland's system of direct democracy which has no parallel in any other country.
They are invited to the polls several times a year to vote in national or regional referendums and people's initiatives. Constitutional proposals and major international treaties must be put to the vote and parliamentary decisions can be subjected to a vote by collecting 50000 signatures.
The tradition of a citizen army seen as an essential part of Swiss neutrality runs deep. During the Cold War the Swiss maintained one of Europe's largest land-based armies. The extremely costly militia system under which every adult male was conscripted and remained in the reserves until middle age has been slowly streamlined.
The government expressed its regrets over the country's behaviour in World War II following a report by an independent panel of historians on Swiss relations with the Nazis. The report found that the authorities had known what lay in store for the Jewish refugees to whom they closed their borders in 1942 and had assisted the economy of Nazi Germany although not to a degree that prolonged the war.
Facts
Full name: Swiss Confederation
Population: 7.6 million (UN 2009)
Capital: Bern
Largest city: Zurich
Area: 41284 sq km (15940 sq miles)
Major languages: German French Italian Romansch
Major religion: Christianity
Life expectancy: 79 years (men) 84 years (women) (UN)
Monetary unit: 1 Swiss Franc = 100 Rappen
Main exports: Machinery and electronics chemicals precision instruments watches
GNI per capita: US $65330 (World Bank 2008)
Internet domain: .ch
International dialling code: +41
Leaders
Federal president (rotating): Hans-Rudolf Merz (until 1 Jan 2010)
Switzerland is unusual in having a collective head of state the seven-member Federal Council which doubles up as the country's cabinet.
The council was set up by the constitution of 1848 which is still in force today.
Finance Minister Hans-Rudolf Merz is president for 2009

Members are elected for four-year terms by a joint session of both houses of parliament although in practice changes in membership are rare making the Federal Council one of the world's most stable governments.
Each year by tradition a different member of the council fills the largely ceremonial post of Federal President on a rotating basis. The office does not confer the status of head of state which is held jointly by all the councillors.
For decades the Federal Council was made up by a grand coalition of all the main parties in parliament in an effort to ensure stability and promote consensus.
From 1959 membership was apportioned in accordance to a fixed formula which gave the liberal Free Democrats (FDP) two seats the centre-left Social Democrats (SP) two the centre-right Christian Democrats (CVP) two and the right-wing Swiss People's Party (SVP) one regardless of any changes in their share of MPs.
This "magic formula" was amended in 2003 when the anti-EU Swiss People's Party overtook the Free Democrats and Social Democrats to become the most popular party and was given a second post at the expense of the waning Christian Democrats.
The party further boosted its standing as the biggest group in parliament in the October 2007 elections after a controversial campaign calling for the extradition of foreigners who commit serious crimes.
However in December 2007 the party ended decades of consensus politics when it suspended its two councillors and declared itself in opposition.
The move was a response to parliament's refusal to re-elect the party's controversial leader Christoph Blocher to the council over its anti-immigration election campaign.
But the Swiss People's Party regained a seat on the council with the close-run election of Ueli Maurer in December 2008. Eveline Widmer-Schlumpf one of the two councillors expelled from the SVP in 2007 is still in office but as a member of a new moderate breakaway group the Conservative Democratic Party (BDP).
Media
Broadcasting is dominated by the public Swiss Broadcasting Corporation (SRG/SSR) which operates seven TV networks and 18 radio stations. Most of its funding comes from licence fee revenues; a smaller proportion comes from TV advertising.
Private radio and TV stations operate at a regional level.
Television stations from France Germany and Italy are widely available thanks in part to the very high take-up of multi-channel cable and satellite TV. Some German commercial broadcasters provide tailored versions of their channels for the Swiss market.
Switzerland's press has full editorial freedom and mainly operates along regional lines which reflect the country's linguistic divisions.
The press

Television

Radio

News agency/internet