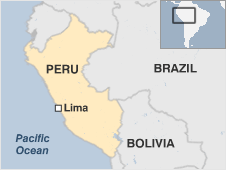 Peru's rich and varied heritage includes the ancient Incan capital of Cuzco and the lost city of Machu Picchu. The country boasts spectacular scenery including Lake Titicaca the world's highest navigable lake.
It is rich in copper silver lead zinc oil and gold. Despite this Peru's progress has been held back by corruption and the failure of successive governments to deal with social and economic inequality.
Overview
In its recent past Peru has alternated between democracy and military dictatorship. Also it is deeply divided politically and economically. A small elite of Spanish descent controls most of the wealth and political power while indigenous Peruvians are largely excluded from both and make up many of the millions who live in poverty.
AT-A-GLANCE

Politics: Former leader Alan Garcia won presidential elections in June 2006; his first term ended in 1990 with the economy in tatters; nationalist rival Ollanta Humala has a majority in Congress

Economy: Peru has seen growth but the lot of the rural poor is little improved; the US and Peru have agreed a free trade deal

International: Peru and Chile dispute their maritime border; Venezuela's President Chavez ruffled some Peruvian feathers by backing Alan Garcia's election rival
Because of these problems foreign investors have often given Peru a wide berth. In addition a preoccupation with political power struggles has meant that the economy and infrastructure have been neglected a factor which fuelled Peru's guerrilla insurgencies.
Peru endured a brutal war against Maoist rebels in which up to 69000 people were killed in the 1980s and 1990s. Investigators have blamed the rebels for many of the killings but the military has also been implicated.
Despite the near destruction of the Shining Path and Tupac Amaru guerrilla groups violence - in the form of murders and gang warfare - is still a problem and has been linked to the drugs trade.
Peru is one of South America's biggest producers of coca - the raw material for cocaine. The UN children's fund Unicef has found that most of the pickers in the coca-growing areas in the north-east and south-east are children.
Facing the Pacific Peru is an important link between Asia and Brazil.
Facts
Full name: Republic of Peru
Population: 29.2 million (UN 2009)
Capital: Lima
Area: 1.28 million sq km (496225 sq miles)
Major languages: Spanish Quechua Aymara
Major religion: Christianity
Life expectancy: 71 years (men) 76 years (women) (UN)
Monetary unit: 1 nuevo sol = 100 centimos
Main exports: Fish and fish products copper zinc gold crude petroleum and by-products lead coffee sugar cotton
GNI per capita: US $3990 (World Bank 2008)
Internet domain: .pe
International dialling code: +51
Leaders
President: Alan Garcia
Former centre-left president Alan Garcia celebrated a dramatic political comeback in June 2006 16 years after he left office with rock-bottom approval ratings. Hyperinflation food shortages and a Maoist guerrilla insurgency plagued his 1985-1990 term; the president says he has learned from his mistakes.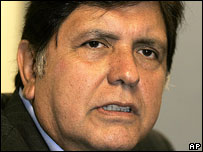 Economic turmoil dogged Alan Garcia's first government
He won a run-off vote in presidential elections having campaigned on promises to tackle poverty and boost economic growth. His rival former military man Ollanta Humala was backed by Venezuela's populist leftist leader Hugo Chavez.
President Garcia represents Peru's oldest political party the American Popular Revolutionary Alliance or Apra. On taking office he announced an austerity drive - which included a cut in his own salary - and cited Chile as an economic role model.
His government has come under fire from environmental and human rights campaigners over plans to auction off swathes of the Amazon to oil and gas companies.
In October 2008 the entire cabinet resigned after members of the party were implicated in a corruption scandal over the allocation of oil contracts. In an effort to restore public confidence in his administration Mr Garcia appointed Yehude Simon a leftist regional governor from outside Apra as the new prime minister.
But less than a year on Mr Simon himself resigned amid criticism of the government's handling of an strike by indigenous people in the Amazon against new land laws - quickly repealed - which would have opened up the area's resources to foreigners.
The violence along with a sharp downturn in the economy and opposition protests against free-trade policies contributed to a steep downturn in Mr Garcia's popularity ratings. In another reshuffle aimed at reviving the government's fortunes he appointed Javier Velasquez Quesquen - an Apra insider - as his new PM.
Mr Garcia's predecessor Alejandro Toledo took office promising to wage "a head-on war on poverty" but struggled to improve the lot of the poor and to deliver on a pledge to create one million jobs over five years.
Mr Toledo oversaw economic growth but had to balance the need for economic prudence with calls for more spending on social programmes and public-sector wage increases.
Media
Privately-run broadcasters and newspapers dominate the media scene with the state-run media having relatively small audiences.
The airwaves of Lima are home to dozens of radio stations and several TV services. Many radio stations and regional newspapers are available in the provinces.
Media watchdog Reporters Without Borders says there is a high level of violence against the media. Corruption drug-trafficking and the activities of Shining Path rebels are "very dangerous" subjects for reporters.
The press

Television

Radio

News agency/internet