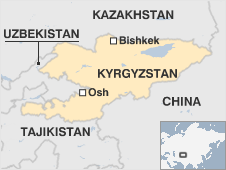 A country of striking beauty and towering peaks Kyrgyzstan became independent with the collapse of the Soviet Union in 1991.
While Kyrgyzstan does possess oil and gas resources it imports the vast bulk of what it needs. The economic situation is dire particularly in the south where unemployment is very high and poverty rife and the country's politics have turned volatile in recent years.
Overview
In 2005 a popular revolt sparked by allegations of government interference in parliamentary elections and fuelled by poverty and corruption swept the former president Askar Akayev from power. He had led the country since independence.
AT-A-GLANCE

Politics: Popular uprising in 2005 - the Tulip Revolution - toppled Askar Akayev leader since independence from Soviet Union in 1991; rule of Kurmanbek Bakiyev has been marked by squabbling and instability

Economics: Kyrgyzstan is one of the poorest countries of the former Soviet Union

International: Kyrgyzstan hosts Russian and US military airbases
Kyrgyzstan is a multi-ethnic state comprising Kyrgyz Uzbeks Tajiks Russians Ukrainians and Germans and a small number of Uighur Dungan - Chinese Muslims - and Koreans.
There is tension between the Kyrgyz and Uzbek communities in border areas over access to land and housing. Relations between the two countries were strained following the bloodshed in Uzbekistan's Andijan region in 2005 when hundreds fled across the border to seek refuge in Kyrgyzstan.
While most of the population remains largely secular there has been a growing interest in Islam among those seeking a new ethnic or national identity.
The government is worried that more hard-line groups such as Hizb-ut Tahrir may be also making inroads and there have been periodic outbreaks of fighting between security forces and militants in the south of country.
In the early 1990s Kyrgyzstan's democratic credentials were regarded as relatively strong. This reputation was subsequently lost as corruption and nepotism took hold during President Akayev's years in office. Parliamentary and presidential elections were flawed opposition figures faced harassment and imprisonment while opposition newspapers were closed.
The country lies at the centre of US-Russian rivalry for control of conflict-prone Central Asia. Both powers have military air bases in the country.
The US established an air base at the Manas international airport near Bishkek in late 2001 to support military operations in Afghanistan.
However in a major potential blow for US and Nato operations in Afghanistan President Bakiyev in October 2008 announced the closure of the base after agreeing to a Russian loan. The decision was soon reversed when the US agreed to more than triple the annual rent for the base.
Weeks later Kyrgyzstan tentatively agreed to allow Russia to open a second military base on its territory apparently expanding Moscow's military reach to balance out the US presence.
Facts
Full name: Kyrgyz Republic
Population: 5.5 million (UN 2009)
Capital: Bishkek
Area: 199900 sq km (77182 sq miles)
Major languages: Kyrgyz Russian
Major religions: Islam Christianity
Life expectancy: 64 years (men) 72 years (women) (UN)
Monetary unit: 1 som = 100 tyiyns
Main exports: Fruit vegetables gold tobacco
GNI per capita: US $740 (World Bank 2008)
Internet domain: .kg
International dialling code: +996
Leaders
President: Kurmanbek Bakiyev
Kurmanbek Bakiyev was voted into office shortly after the so-called Tulip Revolution of 2005 that overthrew the government of Askar Akayev.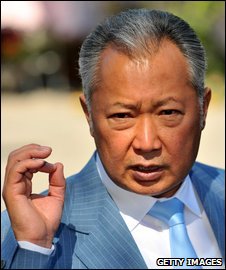 Kurmanbek Bakiyev: Protests led to his predecessor's downfall

He won re-election in July 2009 with a landslide 89 percent of the vote but the elections were criticised by the opposition and foreign observers as undemocratic.
In his inauguration address Bakiyev said he had restored stability and peace to the volatile country in his first term. He earmarked fighting corruption and reducing poverty as among the key priorities for his government.
Rumbling unrest has posed a challenge to his authority. Several MPs have been shot since he came to power force has been used to put down deadly prison riots and there are allegations that the influence of organised crime is increasing.
He has had a tempestuous relationship with parliament having accused MPs of obstructing key legislation and contributing to instability. MPs accused him of backtracking on promises to redistribute some of his powers to parliament.
Tensions came to a head in November 2006. After days of mass protests in the capital the president signed a new draft constitution which curtailed his powers and gave more authority to parliament.
A few weeks later the government resigned and the president pushed through revisions to the November constitution reinstating some of his powers.
In March 2007 the opposition stepped up pressure on the president to resign threatening mass protests. Mr Bakiyev responded by agreeing to appoint a moderate opposition MP as prime minister.
In October voters approved constitutional amendments which according to the president strengthened parliament - a view disputed by the opposition. Two months later Mr Bakiyev's party won an overwhelming majority in a snap parliamentary election.
International monitors described both votes as flawed.
Born in 1949 Kurmanbek Bakiyev trained as an engineer but soon gained a reputation as a successful factory boss. In the 1990s he worked as an economic manager and a regional governor.
Mr Bakiyev became prime minister at the end of 2000. He joined the opposition after he was forced to resign from that post in 2002 following an incident in which several opposition demonstrators were shot dead by police.
He became leader of the newly formed Ak Zhol party in October 2007 and is originally from the south of the country.
Media
The media in Kyrgyzstan have traditionally enjoyed greater editorial freedom than their regional counterparts but have been subject to increasing pressure in recent years.
Large fines often the outcome of legal actions for slander create financial burdens for opposition and private media outlets according to press freedom watchdog Reporters Without Borders.
Editorial content is also influenced by informal government censorship and self-censorship among journalists says the US-funded Internews media organisation.
TV is the dominant medium. National state-run radio and TV networks have yet to achieve complete coverage especially in the south.
Most private broadcasters and publishers operate in a difficult financial climate. Most of the non-state TV and radio stations are based in Bishkek.
There were 750000 internet users by March 2008 (ITU figure). The net has yet to make significant inroads outside the towns and cities.
The press

Television
Kyrgyz National TV and Radio Broadcasting Corporation - state-run two networks
Piramida - private Bishkek area
Kyrgyz Public Educational TV (KOORT) - private
Ecological Youth TV (EYTV) - private Issyk-Kul
Osh TV - private Osh
Independent Bishkek TV - private Bishkek
NTS - private Bishkek
Radio
Kyrgyz National TV and Radio Broadcasting Corporation - state-run operates Kyrgyz Radio 1 and 21 Vek (21st century) networks
Ekho Bishkeka - private Bishkek
Almaz - private Bishkek
Europa Plus - private Bishkek Osh
Russkoye Radio - private
Auto Radio - private
News agencies