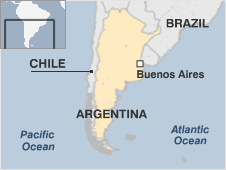 Argentina stretches 4000 km from its sub-tropical north to the sub-antarctic south.
Its terrain includes part of the Andes mountain range swamps the plains of the Pampas and a long coastline. Its people have had to struggle with military dictatorship a lost war over the Falkland Islands and severe economic difficulties.
Overview
Argentina is rich in resources has a well-educated workforce and is one of South America's largest economies. But it has also fallen prey to a boom and bust cycle.
AT-A-GLANCE

Politics: President Cristina Fernandez is the wife of former president Nestor Kirchner

Economy: The economy has rebounded after hitting rock bottom in 2001 but poverty remains a challenge

International: A row over Uruguayan paper mills sours neighbourly relations; Argentina claims sovereignty over the Falklands a UK overseas territory
A deep recession foreshadowed economic collapse in 2001. This left more than half the population living in poverty and triggered unrest. The country struggled with record debt defaults and currency devaluation.
By 2003 a recovery was under way and the International Monetary Fund (IMF) agreed to a vital new loan. Since then Argentina has restructured its massive debt offering creditors new bonds for the defaulted ones and has repaid its debt to the IMF. But with poverty rife and unemployment high many Argentines still await the benefits of the economic upturn.
The legacy of military rule from 1976-1983 is an open wound. Tens of thousands of people were killed in the seven-year "dirty war". The bodies of many abductees - known as the "disappeared" - have never been found.
Amnesties which protected former junta members from prosecution have been repealed and the legality of pardons granted to military leaders in the 1980s and 1990s is being questioned.
Argentines gave the world the tango. They are mad about soccer and are reckoned to be the best polo players. Their love of horses is best personified by the figure of the Argentine 'gaucho' the solitary independent ranch-hand.
Facts
Full name: Argentine Republic
Population: 40.2 million (UN 2009)
Capital: Buenos Aires
Area: 2.8 million sq km (1.1 million sq miles)
Major language: Spanish
Major religion: Christianity
Life expectancy: 72 years (men) 79 years (women) (UN)
Monetary unit: 1 peso = 100 centavos
Main exports: Food and live animals mineral fuels cereals machinery
GNI per capita: US $7200 (World Bank 2008)
Internet domain: .ar
International dialling code: +54
Leaders
President: Cristina Fernandez
Cristina Fernandez swept to victory in the first round of Argentina's presidential election in October 2007 - a victory that many attributed to the popularity of her husband President Nestor Kirchner.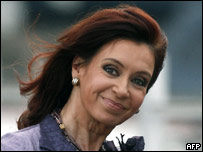 Ms Fernandez is the first woman to be elected president of Argentina

She fought the election campaign largely on Mr Kirchner's record of reducing poverty and unemployment in the wake of the 2001-2002 economic crisis - one of the worst crises the country had ever experienced.
She is expected to continue her husband's domestic policies of striving for high growth rates while containing inflation.
However she is also expected to devote more attention to foreign policy continuing to maintain close ties with other Latin American countries such as Brazil and Venezuela while at the same time seeking to ease the at times strained ties with Washington.
The main challenge Ms Fernandez will have to face is the renewed threat of high inflation. A quarter of the Argentine population still lives in poverty and any rise in the prices of basic commodities is likely to have a devastating impact.
She has a long track-record as a politician. As a law student in the 1970s she was active in a leftist Peronist movement later becoming first a provincial and then a national deputy.
She supported her husband - whom she met at university in 1975 - as he rose through the Peronist ranks and in 1995 became a senator herself.
After Mr Kirchner was elected president in 2003 she was his chief adviser and he also plays an important role in her leadership. One of his first jobs was to help with negotiations to release hostages held by the guerrillas in the Colombian jungle.
The couple have been dubbed "the Clintons of the South" and Ms Fernandez encouraged the comparison by alluding to the similiarities between herself and Hillary Clinton during her election campaign.
They suffered a setback in legislative elections in 2009 when their Peronist party lost control of both houses of Congress and Mr Kirchner was beaten in his high-profile bid for a seat in Buenos Aires province a Peronist stronghold.
The result was widely seen as having been caused by popular dissatisfaction with the government's confrontational approach.
Media
Argentina is one of South America's leading media markets. The country has well over 150 daily newspapers many hundreds of commercial radio stations dozens of TV stations and one of the world's highest take-up rates for cable TV.
Large media conglomerates have emerged. Public broadcasting plays a minor role. Television is the dominant medium. The main national free-to-air networks - Telefe America Canal 9 and Canal 13 - are privately-owned.
Argentine readers are among Latin America's most voracious newspaper consumers. Clarin and La Nacion are the best-selling national dailies.
Media freedom is guaranteed by the constitution. However Reporters Without Borders maintained in 2008 that "direct attacks on the media and obstacles to press freedom... remained high". It said former President Nestor Kirchner had shown "great hostility" to the media - and particularly the conservative La Nacion daily - while in office.
By December 2008 Argentina had 16 million internet users comprising nearly 40% of the population (Internetworldstats.com) and giving the country the second-highest number of surfers on the continent after Brazil.
The press

Television

Radio

News agencies