Sudan Drugs &amp Pharmaceutical Industry Pharmaceutical and Medicine Manufacturing in Sudan Pharmaceutical Companies in Sudan Suppliers Manufacturers Exporters &amp Importers pharmaceutical manufacturers in Sudan Manufacturer Pharmaceuticals Suppliers in Middle East pharmaceutical technology Middle East Manufacturing Industry in Sudan Pharmaceuticals Manufacturing in Middle East pharmaceuticals company from Sudan List of Middle East Pharmaceutical Companies pharmaceutical distributors Sudan Pharmaceuticals importer in Middle East Pharmaceuticals Manufacturing Phamaceutical industries in Middle East list of pharmaceutical companies in Middle East List of Pharmaceutical Companies in Sudan Sudan PHARMACEUTICAL Pharmaceutical Company Directory Middle East Pharmaceutical Industry Sudan Pharmaceuticals &amp Healthcare Report Sudan Companies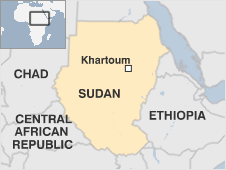 Sudan is the largest and one of the most diverse countries in Africa, home to deserts, mountain ranges, swamps and rain forests.
It emerged from a two-decade civil war between the mainly Muslim north and the Animist and Christian south, only to see fighting break out in the western region of Darfur in early 2003.
The north-south civil war is said to have cost the lives of 1.5 million people. In Darfur, the UN says more than two million people have fled their homes and more than 200,000 have been killed.
Overview
Southern rebels said they were battling oppression and marginalisation. After two years of bargaining, they signed a comprehensive peace deal with the government to end the civil war in January 2005.
Humanitarian crisis:

Civil war in Darfur region is seen as "one of the worst nightmares in recent history"

Politics:

Omar al-Bashir heads a unity government formed after a peace deal ended 20 years of southern civil war. An independence referendum in the south will follow a six-year period of autonomy

Economy:

Oil production and revenues are rising



The accord provides for a high degree of autonomy for the south. The region will also share oil revenue equally with the north.
But in Darfur, pro-government Arab militias are accused of carrying out a campaign of ethnic cleansing against non-Arab groups in the region.
The conflict has strained relations between Sudan and Chad, to the west. Both countries have accused each other of cross-border incursions. There have been fears that the Darfur conflict could lead to a wider, regional war.
Decades of fighting have left Sudan's infrastructure in tatters. With the return of millions of displaced southerners, there is a pressing need for reconstruction.
The economic dividends of peace could be great. Sudan has large areas of cultivatable land, as well as gold and cotton. Its oil reserves are ripe for further exploitation.
Sudan's name comes from the Arabic "bilad al-sudan", or land of the blacks. Arabic is the official language and Islam is the religion of the state, but the country has a large non-Arabic speaking and non-Muslim population which has rejected attempts by the government in Khartoum to impose Islamic Sharia law on the country as a whole.
President Omar al-Bashir has been locked in a power struggle with Hassan al-Turabi, his former mentor and the main ideologue of Sudan's Islamist government. Since 2001 Mr Turabi has spent periods in detention and has been accused, but not tried, over an alleged coup plot.
Facts
Full name:

Republic of Sudan

Population:

42.2 million (UN, 2009)

Capital:

Khartoum

Area:

2.5 million sq km (966,757 sq miles)

Major languages:

Arabic; Nubian, others

Major religions:

Islam, Christianity

Life expectancy:

56 years (men), 60 years (women) (UN)

Monetary unit:

Sudanese dinar

Main exports:

Oil, cotton, sesame, livestock and hides, gum arabic

GNI per capita:

US $1,130 (World Bank, 2008)

Internet domain:

.sd

International dialling code:

+249
Leaders
President: Omar Hassan Ahmad al-Bashir
The International Criminal Court in The Hague on 4 March 2009 issued an arrest warrant for President Omar al-Bashir on charges of war crimes and crimes against humanity in Darfur.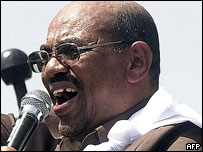 Omar al-Bashir is wanted on war crimes charges
Mr Bashir is the first sitting head of state for which the court has issued a warrant since it started its work in 2002.
He has dismissed the court's allegations and has continued to travel to countries which oppose the indictment.
Omar al-Bashir formed a government of national unity in July 2005 as part of a deal to end the conflict in southern Sudan, Africa's longest-running civil war.
Under the Comprehensive Peace Agreement signed in Nairobi, the south was granted limited autonomy and a referendum on full independence by 2011.
However, as the civil war between north and south was coming to an end, another one broke out in the western region of Darfur. Following rebel attacks, President Bashir's regime was accused of orchestrating violence by pro-government militias in which hundreds of thousands are thought to have been killed.
Alliance
Omar al-Bashir took power in a June 1989 military coup against the elected government of Prime Minister Sadiq al-Mahdi.
Born in 1944 into a farming family, he joined the army as a young man and rose through the ranks. He fought in the Egyptian army in the 1973 war with Israel and led the military campaign against southern rebels.
On taking power, Mr Bashir dissolved parliament, banned political parties and set up and chaired the Revolutionary Command Council for National Salvation, which ruled through a civilian government.
He formed an alliance with Hassan al-Turabi, the leader of the National lslamic Front, who became the regime's ideologue and is thought to be behind the introduction of Sharia law in the north in 1991. In 1993 Mr Bashir dissolved the Revolutionary Command for National Salvation, concentrating power in his own hands.
Mr Bashir was elected president in 1996, and Hassan al-Turabi became speaker of parliament. A new constitution was drawn up and some opposition activity was permitted.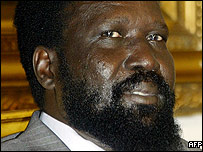 First vice president Salva Kiir
But in late 1999 Mr Bashir dissolved parliament and declared a state of emergency after Mr Turabi tried to give parliament the power to remove the president and to reinstate the post of prime minister. Hassan al-Turabi was later imprisoned, accused of treason after signing a deal with separatist rebels in the south.
President Bashir won re-election in 2000. Supporters of the National Congress Party filled the parliament. The opposition boycotted the poll, accusing Mr Bashir of vote-rigging.
First vice president: Salva Kiir
Vice president: Ali Osman Taha
Media
Sudanese broadcasting is highly restricted. State-run radio and TV reflect government policy. A military censor ensures that the news reflects official views.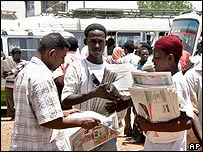 The private press enjoys more freedom than state broadcasters
There are no privately-owned TV stations apart from a cable service jointly owned by the government and private investors.
Satellite dishes are a common sight in affluent areas and pan-Arab stations are popular among viewers.
State-run national radio networks broadcast news, music and cultural programmes. International broadcasters are also heard, including the BBC which is relayed on FM in Khartoum and other parts of the north, and in Juba in the south. Several opposition and clandestine stations broadcast to Sudan.
The private press enjoys a greater degree of freedom than the state broadcasters and offers a limited forum for opposition views, but the state retains and uses powers to influence what is published.
In the semi-autonomous south, the lack of infrastructure limits media operations. However, broadcasters and newspapers, some with foreign funding, are active. Radio is the most-popular medium. The region's president has said he wants to "create space for the media to enjoy freedom".
The press
Al-Ra'y al-Amm (The Public Opinion) - private, mass-circulation daily
Al-Ayam (The Days) - established daily

Khartoum Monitor - privately-owned, English-language

Al-Khartoum - privately-owned

Alwan - Khartoum daily

Al-Sahafah (The Press) - daily

Al-Anba - government-owned

The Juba Post - private weekly in the south
Television
Radio
Sudan National Radio Corporation - government-run, national and regional networks in Arabic, English and other languages
Mango 96 FM - private, music-based Khartoum station
Miraya (Mirror) FM - operated by UN mission, broadcasts from southern capital of Juba

Radio Juba - government-owned radio in the south

Liberty FM - in Juba and Yei
Opposition and clandestine radios
Voice of Sudan - operated by opposition National Democratic Alliance (NDA), broadcasts on shortwave

Voice of Freedom and Renewal - operated by armed opposition group Sudan Alliance Forces, via shortwave
News agency/internet
Sudan, Drugs & Pharmaceutical Industry, Pharmaceutical and Medicine Manufacturing in Sudan, Pharmaceutical Companies in Sudan, Suppliers, Manufacturers, Exporters & Importers, pharmaceutical manufacturers in Sudan,

Manufacturer

, Pharmaceuticals Suppliers in Middle East, pharmaceutical technology Middle East, Manufacturing Industry in Sudan, Pharmaceuticals Manufacturing in Middle East, pharmaceuticals company from Sudan, List of Middle EastPharmaceutical Companies, pharmaceutical distributors Sudan, Pharmaceuticals importer in Middle East, Pharmaceuticals Manufacturing, Phamaceutical industries in Middle East, list of pharmaceutical companies in Middle East, List of Pharmaceutical Companies in Sudan, Sudan PHARMACEUTICAL, Pharmaceutical Company Directory, Middle East Pharmaceutical Industry, Sudan Pharmaceuticals & Healthcare Report, Sudan Companies