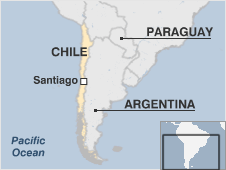 Chile is one of South America's most stable and prosperous nations. It has been relatively free of the coups and arbitrary governments that have blighted the continent.
The exception was the 17-year rule of General Augusto Pinochet whose 1973 coup was one of the bloodiest in 20th-century Latin America and whose dictatorship left more than 3000 people dead and missing.
Overview
Chile is coming to terms with his legacy. Courts stripped him of his immunity from prosecution and the former president was questioned over the killings of dissidents by South American governments in the 1970s and 1980s; he denied links with the campaign until his death in December 2006.
AT-A-GLANCE

Politics: President Michelle Bachelet is the fourth consecutive leader from the ruling centre-left coalition

Economy: Chile has one of Latin America's strongest economies; high world prices for its copper have swollen state coffers

International: Chile is a key regional player but it has long-running territorial disputes with Peru and Bolivia the latter over access to the Pacific Ocean
Chile is relatively free of crime and official corruption. The authoritarian Pinochet-era constitution has been revised and the judicial system overhauled.
The country had Latin America's fastest-growing economy in the 1990s and has weathered recent regional economic instability. But it faces the challenges of having to diversify its copper-dependent economy - it is the largest world producer - and of addressing uneven wealth distribution.
Chile's unusual ribbon-like shape - 4300 km long and on average 175 km wide - has given it a hugely varied climate.
This ranges from the world's driest desert - the Atacama - in the north through a Mediterranean climate in the centre to a snow-prone Alpine climate in the south with glaciers fjords and lakes.
Most Chileans are of mixed Spanish and indigenous descent.
Facts
Full name: Republic of Chile
Population: 17 million (UN 2009)
Capital: Santiago
Area: 756096 sq km (291930 sq miles)
Major language: Spanish
Major religion: Christianity
Life expectancy: 76 years (men) 82 years (women) (UN)
Monetary unit: Chilean peso
Main exports: Copper fish fruit paper and pulp chemicals
GNI per capita: US$9400 (World Bank 2008)
Internet domain: .cl
International dialling code: +56
Leaders
President: Michelle Bachelet
Michelle Bachelet took over the reins from Ricardo Lagos in March 2006 after winning run-off elections. She is the country's first woman to be president.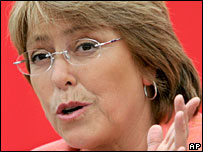 Michelle Bachelet was jailed and tortured by the former military junta

A former health minister and later defence minister she is the fourth consecutive president from the Concertacion coalition which has led Chile since the end of military rule in 1990.
The president has asked her government to give priority to social issues and says she wants to make sure that all Chileans benefit from the country's economic growth. She is expected to maintain her predecessor's free-market policies.
Her political honeymoon came to an end in summer 2006 when hundreds of thousands of students took part in strikes and sometimes-violent protests in pursuit of education reforms.
Michelle Bachelet was politicised by the military coup of September 1973 that brought General Augusto Pinochet to power.
Her father was a general in the air force who was opposed to the military government and died in prison.
She worked undercover for the Socialist Youth and she was held for weeks with her mother Angelica in torture and detention centres before being allowed to flee the country in 1975.
She studied in Germany and trained as a doctor before returning to Chile.
She is separated from her husband and has three children.
Media
Chile's national and local terrestrial TV channels operate alongside extensive cable TV networks which carry many US and international stations.
Radio is an important source of news and information; there are hundreds of stations most of them commercial.
The constitution provides for freedom of speech and of the media and this is generally respected by the authorities. The media maintain their independence criticise the government and cover sensitive issues.
Media rights group Reporters Without Borders noted in 2007 that Chile had a good name for press freedom but added that the police and military "have not lost repressive habits left over from the military dictatorship".
A 2001 press freedom act swept away many of the Pinochet-era restrictions on the media.
The press

Television

Radio