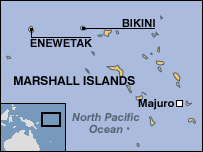 The Marshall Islands consist of two chains of coral atollstogether with more than 1,000 isletsjust north of the Equator.
The atolls are coral deposits on the crater rims of submerged volcanoes.
The islands were occupied by the US for several decades after World War II. They are now a sovereign nation under a Compact of Free Association with the US.
Overview
The compact came into force in 1986 and was renegotiated in 2003. The US controls the security and defence of the islandswhich receive millions of dollars in aid every year.
MARK OF NUCLEAR PAST

A huge concrete dome over a crater left by nuclear blasts on Runit Island caps off radioactive debris from tests in the 1940s and 1950s
Under the compactthe US pays an annual rent to use the Kwajalein atoll as a base and missile test range.
The legacy of the post-war US occupation is seen particularly starkly on Bikini and Enewetakwhich were both used for nuclear weapons testing between 1946 and 1958.
The US paid $150 million in a compensation package for the test victims in the 1980s. But whilst Enewetak has been partly decontaminatedBikini is still uninhabitable. The Marshall Islands has petitioned for additional compensation.
A major problem for the islands is how to gain some measure of financial independence from the US. Imports dwarf exportsunemployment is high and many islanders live by subsistence farming.
Tourism is one option; unspoiled beaches abound and the islands are an ideal base for scuba diving and sports fishing. The islands also sell fishing rights to other countriesand offer ship registrations under the Marshall Islands flag.
Facts
Full name: Republic of the Marshall Islands
Population: 54,000 (UN2009)
Capital: Majuro
Area: 181 sq km (70 sq miles)
Major language: MarshalleseEnglish
Major religion: Christianity
Life expectancy: 64 years (men)67 years (women) (UN)
Monetary unit: 1 US dollar = 100 cents
Main exports: Chilled and frozen fishcoconut oilcoprashark fins
GNI per capita: US $3,270 (World Bank2008)
Internet domain: .mh
International dialling code: +692
Leaders
President: Jurelang Zedkaia
Traditional chief Jurelang Zedkaia was elected president in October 2009 by a slender 17-15 marginreplacing Litokwa Tomeing who was ousted in a no-confidence vote.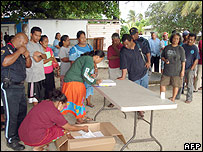 Marshall Islanders vote in the 2007 elections

Mr Zedkaiathe parliamentary speaker in the Tomeing governmentdefeated the only other nomineeformer president Kessai Note.
A five-term senator and paramount chief for the capital atoll of MajuroMr Zedkaia was speaker during Mr Tomeing's 22 months in office and was a vice speaker in earlier administrations.
Mr Tomeing was the first leader to lose a no-confidence vote in the 30-year history of constitutional government in the former US Trust territory.
The vote followed a power struggle between Mr Tomeing and Mr Note who was vying to return to power after he lost office in the last election.
Media
The government generally respects freedom of speech and of the mediaalthough journalists occasionally practice self-censorship on sensitive political issues.
A privately-owned weekly newspaper is published in both English and the Marshallese language. The government's monthly contains official news but avoids political coverage.
State-owned and private radio stations offer diverse views. American forces radio and TV broadcasts can be received in some areas. US TV channels are available via cable.
The press

Television

Radio