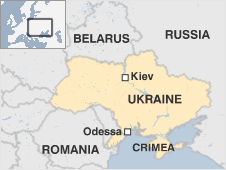 Ukraine gained independence after the collapse of the Soviet Union in 1991 and is now seeking closer integration with Western Europe - a process watched with unease by its eastern neighbour Russia.
Europe's second largest country Ukraine is a land of wide fertile agricultural plains with large pockets of heavy industry in the east.
While Ukraine and Russia share common historical origins the west of the country has close ties with its European neighbours particularly Poland and Ukrainian nationalist sentiment is strongest there.
Overview
A significant minority of the population of Ukraine are Russians or use Russian as their first language. Russian influence is particularly strong in the industrialised east as well as in Crimea an autonomous republic on the Black Sea which was part of Russia until 1954. The Russian Black Sea Fleet is based there.
Crimea is also the homeland of the Crimean Tatars whom Stalin accused of collaborating with the Nazis and deported to Central Asia in 1944. More than 250000 have returned since the late 1980s.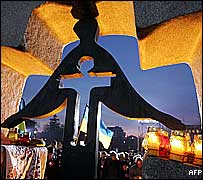 Remembering the millions who died in Ukraine's Stalin-era Great Famine
In 1932-1933 Stalin's programme of enforced agricultural collectivisation brought famine and death to millions in Ukraine the bread basket of the USSR. Not until its twilight years did the Soviet Union acknowledge the extent of the suffering.
News of another Soviet-era calamity the 1986 accident at the Chernobyl nuclear power station rang alarm bells around the world immediately. About 8% of Ukraine's territory was contaminated as were large areas in neighbouring Belarus. Millions have suffered as a result.
Independence
The first president after independence former Communist Party official Leonid Kravchuk presided over a period of economic decline and runaway inflation.
Although trade with EU countries now exceeds that with Russia Russia is the largest individual trading partner. Ukraine depends on Russia for its gas supplies and forms an important part of the pipeline transit route for Russian gas exports to Europe.
A dispute over price rises prompted Russia briefly to cut supplies for use by Ukraine in January 2006 and raised concerns across Europe too. The gas was switched back on only after Ukraine agreed to pay almost twice the former price which rose sharply again for 2007. In January 2009 Russia again cut gas supplies in a row over unpaid fees.
The Ukrainian economy's dependence on steel exports made it particularly vulnerable to the effects of the global financial crisis of 2008 and in October of that year the country was offered a $16.5bn (£10.4bn) loan by the International Monetary Fund (IMF).
Since Viktor Yushchenko became president Ukraine has made clear its aspiration towards EU membership; 2015 has been mooted as a possible target entry date.
In 2002 Ukraine announced that it intended to seek Nato membership. Nato decided not to offer Ukraine membership at its Bucharest summit meeting in April 2008 but promised to review the decision in December.
There were Ukrainian peacekeepers in the stabilisation force in Iraq and the country also sent peacekeeping troops to Kosovo.
Facts
Population: 45.7 million (UN 2009)
Capital: Kiev
Area: 603700 sq km (233090 sq miles)
Major languages: Ukrainian (official) Russian
Major religion: Christianity
Life expectancy: 63 years (men) 74 years (women) (UN)
Monetary unit: 1 hryvnya = 100 kopiykas
Main exports: Military equipment metals pipes machinery petroleum products textiles agricultural products
GNI per capita: US $3210 (World Bank 2008)
Internet domain: .ua
International dialling code: +380
Leaders
President: Viktor Yushchenko
Viktor Yushchenko was sworn in in early 2005. Neither his path to the presidency nor his time in office so far have been smooth.
Viktor Yushchenko seeks EU Nato integration
When he was declared to have lost presidential elections in late 2004 to Viktor Yanukovych the candidate backed by outgoing president Leonid Kuchma and also by Russia Mr Yushchenko and his supporters took to the streets in huge numbers to protest that the vote had been rigged.
After 10 days of peaceful but dramatic demonstrations dubbed the Orange Revolution a rerun was ordered. Mr Yushchenko won.
The optimism that followed the Orange Revolution has faded for many Ukrainians. Economic growth has slowed and prices have risen - a process accelerated by the global downturn of 2008.
One of Mr Yushchenko's key pledges was to fight corruption. In a country where business and politics remain closely entwined this has turned out to be tricky. Mr Yushchenko himself has faced allegations of cronyism.
By early 2009 his opinion poll ratings were at rock bottom amid worsening economic conditions infighting in the ruling coalition and simmering tensions with Russia. Even so he says he will stand for a second term in elections scheduled for 17 January 2010.
Viktor Yushchenko is regarded as a pro-Western liberal reformer. He was born in north-east Ukraine in 1954 and is an economist and banker by training. He served as prime minister under Leonid Kuchma between 1999 and 2001 when he was credited with steering through successful economic reforms.
Both the president and the prime minister exercise executive power. However the president can choose some key ministers including the foreign minister.
Prime minister: Yulia Tymoshenko
Yulia Tymoshenko was appointed prime minister in December 2007 and heads a coalition government that supports closer ties with the European Union and NATO.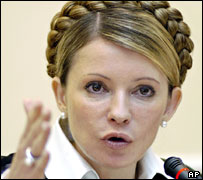 Yulia Tymoshenko - now serving her second stint as premier
President Viktor Yushchenko first appointed her premier in 2004 after she played a key role in rallying support for the 'Orange Revolution' that swept him to power in 2004.
However once in government the alliance broke down and he sacked her in 2005 for feuding with his party colleagues.
They revived their partnership for the September 2007 general elections in which their pro-Western coalition narrowly beat the bloc headed by their more pro-Russian rival former Prime Minister Viktor Yanukovych.
After ten weeks of political wrangling parliament appointed her prime minister by the smallest possible margin.
Within a year however differences between Mr Yushchenko and Mrs Tymoshenko had resurfaced particularly over policy towards Russia
Their coalition government finally collapsed in September 2008 when Mr Yushchenko accused Ms Tymoshenko of backing plans to curtail the president's powers.
Early parliamentary elections were widely expected but then cancelled in response to the growing economic crisis.
In December the two sides agreed to start talks on re-forming the coalition expanded to include a minor party.
Tymoshenko 45 at the time of her appointment originally trained as an engineer and economist before going on to push through energy sector reforms in Mr Yushchenko's government in 1999-2001.
Her telegenic style and scathing attacks on Ukraine's political and industrial elite as well as the perceived influence of Moscow on the country have won her a large popular following particularly in western Ukraine.
However her critics have accused her of unpredictability and opportunism and have pointed out that she herself is reported to have made a fortune in the energy sector in the 1990s.
In October 2009 her political party nominated her as a candidate for Ukraine's presidential election in January 2010.
Media
Television dominates the Ukrainian media scene in terms of audiences and advertising revenue.
Many outlets are privately-owned. Commercial networks particularly Inter TV and 1+1 attract the lion's share of the TV audience. The FM radio band in Kiev is busy with more than 20 stations competing for listeners.
Many newspaper titles have Ukrainian and Russian-language editions. Several of the biggest-selling tabloids publish only in Russian.
After the 2004 Orange Revolution the influence of the state and media owners on editorial policy became weaker. However partisan attacks on political opponents are made via some TV channels in newspapers or on websites.
Despite an expanding advertising market many media outlets rely on the support of wealthy sponsors.
Under former President Leonid Kuchma some opposition papers were closed and several journalists investigating high-profile crimes died in mysterious circumstances. Prominent journalist Georgiy Gongadze disappeared in September 2000; his body was found two months later.
A parliamentary investigative commission says it believes that Mr Kuchma was one of the organisers of the abduction. The former president denies this.
There were 6.7 million internet users by April 2008 (Internetworldstats). The medium is becoming a popular source of news with more than a dozen leading sites - neutral pro-opposition and pro-government.
The press
Television
Radio
News agencies