The multi-island country of St Vincent and the Grenadines is a land of contrasts. St Vincent - the main population centre - is mountainous and lush. Rainforests thrive in the interior and La Soufrie an active volcano dominates the north.
Of the many islands and cays that make up the Grenadines Mustique Palm Island and Union Island are haunts of the rich and famous - offering yachting diving and fine beaches.
Overview
These playgrounds are worlds away from the many Vincentians who are without jobs. High unemployment has prompted many to leave the islands.
Like other countries in the Windwards chain St Vincent and the Grenadines has tried to reduce its reliance on banana exports after the European Union phased out preferential treatment to producers from former colonies.
Efforts to diversify the economy have been partially successful. Tourism is said to have great potential and there are plans to build an international airport. But the banana crop remains vital accounting for around a third of export earnings.
Like many other Caribbean countries St Vincent and the Grenadines has fallen victim to drug-related crime. Efforts have been made to tackle marijuana cultivation.
The country has taken steps to curb money-laundering and a Paris-based organisation dedicated to tackling the issue has removed St Vincent and the Grenadines from its list of non-cooperative countries.
Facts
Full name: Saint Vincent and the Grenadines
Population: 109000 (UN 2009)
Capital and largest city: Kingstown
Area: 389 sq km (150 sq miles)
Major languages: English
Major religion: Christianity
Life expectancy: 69 years (men) 74 years (women) (UN)
Monetary unit: 1 East Caribbean dollar = 100 cents
Main exports: Bananas arrowroot (starch) nutmeg mace coconuts
GNI per capita: US $5140 (World Bank 2008)
Internet domain: .vc
International dialling code: +1784
Leaders
Head of state: Queen Elizabeth II represented by Governor-General Sir Frederick Ballantyne
Prime minister: Ralph Gonsalves
Known by many Vincentians as "Comrade Ralph" Mr Gonsalves and his Unity Labour Party (ULP) won a second straight term in December 2005 gaining 12 seats in the 15-seat parliament.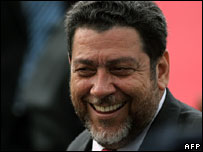 PM Ralph Gonsalves campaigned on his economic record
The opposition New Democratic Party won the rest of the seats.
The prime minister campaigned on his government's economic record citing economic growth and the completion of dozens of major projects. Following his win he called for national reconciliation and an end to "perpetual warfare of a verbal kind".
Mr Gonsalves was born in 1945 and practised as a lawyer. He first came to office in 2001 ending 15 years of rule by the New Democrat Party.
Media
The Vincentian press is privately-owned. The constitution guarantees a free press and publications openly criticise government policies. There are several private radio stations and a national radio service which is partly government-funded.
The press

Television

Radio


AFRICA | ASIA-PACIFIC | AMERICAS | EUROPE | MIDDLEEAST | SOUTHASIA
Mauritania Mauritius Morocco Mozambique Namibia Niger Nigeria Republic-of-congo Rwanda Sao-tome-and-principe Senegal Seychelles Sierra-leone Somalia South-africa Sudan Swaziland Tanzania The-gambia Togo Tunisia Uganda zambia Zimbabwe Australia Brunei Burma Cambodia China East-timor Fiji Indonesia Japan Kazakhstan Kiribati Kyrgyzstan Laos Malaysia Marshall-islands Micronesia Mongolia Nauru New-zealand North-korea Palau Papua-new-guinea Samoa Singapore Solomon-islands South-korea Taiwan Tajikistan Thailand The-philippines Tonga Turkmenistan Tuvalu Uzbekistan Vanuatu Vietnam Antigua-and-barbuda Argentina Bahamas Barbados Belize Bolivia Brazil Canada Chile Colombia Costa-rica Cuba Dominica Dominican-republic Ecuador El-salvador Grenada Guatemala GuyanaHaiti Honduras Jamaica Mexico Nicaragua Panama Paraguay Peru St-kitts-and-nevis St-lucia St-vincent-and-the-grenadines Suriname Trinidad-and-tobago United-states-of-america Uruguay Venezuela Albania Andorra Armenia Austria Azerbaijan Belarus Belgium Bosnia-hercegovina Bulgaria Croatia Cyprus Czech-republic Denmark Estonia Finland France Georgia Germany Greece Hungary Iceland Ireland Italy Latvia Liechtenstein Lithuania Luxembourg Macedonia Malta Moldova Monaco Montenegro Norway Poland Portugal Russia San-marino Serbia Slovakia Slovenia Spain Sweden Switzerland The-netherlands Turkey Ukraine United-kingdom Vatican Algeria Egypt Iran Iraq Israel-and-palestinian-territories Jordan Kuwait Lebanon Libya Mauritania Oman Saudi-arabia Sudan Syria Tunisia United-arab-emirates Yemen Afghanistan Bangladesh Bhutan India Nepal Pakistan Sri-Lanka The-Maldives