Composition

Each 100 ml Syrup contains :
Calcium Carbonate (Oyster Shell) equivalent to Element Calcium ...........500 mg
Vitamin D3 IP ............................................................................................250 mg
Approved Colour

Bonycal Syrup is a Calcium Supplement which is widely used during pregnancy & lactation and for management for osteoporosis.

Indication

Bonycal Syrup is widely used medicinally as an inexpensive dietary calcium supplement or antacid. It may be used as a phosphate binder for the treatment of hyperphosphatemia.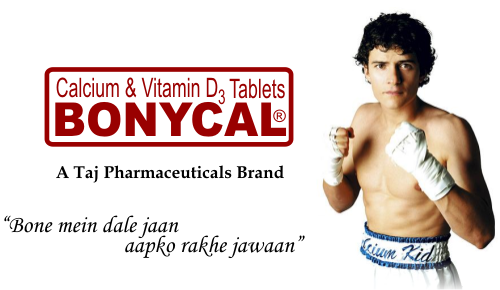 Use
Bonycal Syrup is a dietary supplement used when the amount of calcium taken in the diet is not enough. Calcium is needed by the body for healthy bones, muscles, nervous system, and heart. Calcium carbonate also is used as an antacid to relieve heartburn, acid indigestion, and stomach upset. It is available with or without a prescription.

Dosage
Bonycal Syrup comes as a tablet to take by mouth. It usually is taken three or four times a day. Follow the directions on your prescription or package label carefully, and ask your doctor.

Side effects
• upset stomach
• vomiting
• stomach pain
• belching
• constipation
• dry mouth
• increased urination
• loss of appetite
• metallic taste

Presentation
100 ml Bottle

Note : This product information is intended only for residents of the India. Taj Pharmaceuticals Limited, medicines help to treat and prevent a range of conditions—from the most common to the most challenging—for people around the world.

Information for Health Care Professionals

*** Please consult local Prescribing Information for any product before use. This website is an international information resource for healthcare professionals with an interest in disease management. This website is not intended to replace the advice of a qualified healthcare professional. Above brand is a trademark of the Taj group of companies (Taj Pharmaceuticals Limited).