New drug regulatory norms on cards
Revamped Policy To Help Drug Cos Become Inventors And Not Copiers Of MNC Brands
THE government is putting finishing touches on a new regulatory regime for the country's pharmaceutical sector that will seek to catapult domestic drug makers into the global league of inventors from being successful copiers of expensive multinational brands.
A proposal from the department of pharmaceuticals, now being considered by Prime Minister Manmohan Singh, will encourage investment in high-risk research, testing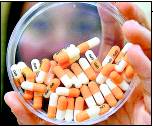 experimental drugs on animals, protecting costly research data shared with the regulators and everything needed to transform the country's drug makers into leaders in scientific breakthroughs. The proposal suggests comprehensive changes in the laws governing research funding, drug discovery, clinical trials and approvals at different stages.
These regulatory reforms are attached to the $2-billion (Rs 10,000 crore) annual pharmaceutical research funding plan announced by chemicals minister Ram Vilas Paswan a week ago. The department has already interviewed 50 top executives from drug makers such as Ranbaxy, Biocon, Wockhardt, Pfizer, Wyeth and F Hoffmann La Roche and identified the bottlenecks that hold back drug firms from inventing new drugs.
"Our idea is to fill in the missing links in drug discovery, starting from identifying the disease to inventing drugs and securing patent rights. This offers the population a chance to have new cutting edge drugs at reasonable prices. Now, only 35% of the population has access to healthcare, mostly from private doctors and hospitals. About 80% of their total health spending is on medicines," said an official with the department of pharmaceuticals, who asked not to be named. The official was quoting WHO figures.
The areas for reforms and financial support include import, maintenance and use of animals for clinical trials, an area where tough restrictions are in place because of the opposition from animal activists and NGOs. For example, beagle dogs, used to test new drugs, are imported from Thailand at a price for Rs 20,000 per animal. One animal cannot be subjected to more than five clinical trials, and it has to be ensured that the animal survives and leads a good life after the tests, the official said. It is also difficult to get regulatory clearances to set up large animal houses for testing drugs. The state-run Central Drug Research Institute, which has the facility, is booked for many years to come, the official said.
The plan also proposes to fix the porous government offices so that the costly clinical data generated by drug makers and shared with regulators does not get leaked to rival companies. While data theft will be prevented, the government will not allow inventors to extend their monopoly over their drugs beyond the 20 year patent term by claiming exclusive rights once the patent has expired.
Faster approvals for various stages of animal and human experiments and marketing is another reform proposed. Specific regulatory changes will be identified in a detailed project report to be prepared within six months after the Prime Minister clears the project, said an official.