Now, Tamiflu at city chemists
28 Medicine Shops In Delhi To Stock The Swine Flu Drug
Kounteya Sinha | TNN

New Delhi: The world's only anti-viral drug known to be effective against the deadly H1N1 virus, oseltamivir (Tamilfu), is now available at chemists near you.
A total of 480 chemists have been allowed to sell the drug in India against prescription, of which 28 are in Delhi. The chemists in Delhi who have been given licence to sell Tamilfu are based in Dilshad Garden, Pitampura, Gautam Nagar, Chanakyapuri, Vasant Kunj, Old Rajinder Nagar, Rajouri Garden, East Shalimar Bagh, Sarita Vihar, Kalkaji, Gole Market, Dwarka sector 10 and Nehru Nagar.
The second line drug Zanamivir or Relenza, listed under Schedule X of the Drugs and Cosmetic Act, 2008, will also be available. However, the demand is expected to be for oseltamivir which is the first line drug.
While selling these drugs, pharmacies will have to keep a record of prescriptions, name of the doctor who prescribed it and the person to whom it was sold. ''To buy Tamiflu, suspected patients will have to produce three copies of the prescription from a doctor, one will be stamped and returned to the consumer while the other two will be kept by the retail chemist and the distributor. We want to ensure no hoarding of the drug takes place,'' a health ministry official said. The sale of Tamiflu and Relenza will be monitored by the respective state drug controllers.
Ten tablets of Tamiflu will cost Rs 450 and you can buy 20 tablets of Relenza, marketed in India as Virenza by Cipla, for Rs 800.
According to the list available with TOI of the northern region, UP has five chemists — in Kanpur, Bareilly, Mathura, Meerut and Noida — which will sell the drug. Haryana has a single chemist in Ambala while Punjab will have five in Mohali, Amritsar, Zirakpur and Jalandhar.
In Himachal Pradesh, the drug will be available in a chemist shop in Mandi while Jammu and Kashmir has 31 such outlets. Rajasthan has seven chemists allowed to sell oseltamivir between Udaipur, Jodhpur and Jaipur while Chandigarh has five.
The chemists have already started procuring the drug from six companies which have the permission to manufacture the medicine. The companies include Ranbaxy, Cipla, Metco, Hetero, Strides and Roche.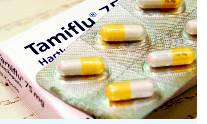 Meanwhile, India on Tuesday recorded over 300 positive cases of H1N1 infections — the highest in a single day. The virus has taken over 250 Indian lives.
India has already spent over Rs 70 crore on purchasing Tamilfu whose retail sale was banned till now. It was only available in designated hospitals identified by the government for treating and quarantining H1N1 cases. India has a stockpile of 30 million doses of Tamilfu. Around 72 lakh doses have already been decentralized with every district having stock to treat 1,000 patients, 35 metros having stock to treat 1,000 patients and bigger cities having stock to treat 10,000 patients.
Help Within Easy Reach
The chemist shops and outlets in the capital where Tamiflu will be available
Shree Ram Medicos, Dilshad Garden; Govind Medical Store, Dilshad Garden; Impex India, Opposite GTB Hospital; Ankay Medicos, Krishna Nagar; Triveni Medicos, East Krishna Nagar; Kaysons Pharma, Aruna Asaf Ali Hospital, Rajpura Road; Army Medical and General Store, Sadar Bazar, Delhi Cantt; B R Medicos, Gopi Nath Bazar, Delhi Cantt; Gemini Therapeutics, Nehru Market, Rajouri Garden; Friends International, R Bhawan, Matiala Village; Nath Medical Hall, Rajouri Garden; New Delhi Medicos, Old Rajinder Nagar, Sir Ganga Ram Road; New Delhi Medicos, Main Pusa Road, Old Rajinder Nagar; Miglani Chemist, Manish Royal Plaza II, Dwarka; Institute of Live and Biliary Sciences, Vasant Kunj; Dynamic Pharmacy Primes Otho & Spine Hospital, Chander Gupta Marg, Chanakyapuri; Shivay Medibutors, CSC Lok Vihar, Pitampura; Miglani Bros Chemist, East Shalimar Bagh; Friends International, Gautam Nagar; Jainyson Chemist, Central Road, Bhogal; Indian Hospital Corp Litd, Indraprastha Apollo Hospital, Sarita Vihar; Family Farmace, Ram Puri, Kalkaji; Impex India, Yusuf Sarai; Krishna Chemist, Behind RML Hospital, R K Ashram Marg; New Delhi Medicos, Old R K Ashram Marg, Behind RML Hospital; CGHS Medical Store Depot, Udyan Marg, DIZ Area, Gole Market; Diligent Hospital, East of Sainik Farm; Vimhams Pharmacy, No 1 Institutional Area, Nehru Nagar