Generic Name: Phenobarbitone (fee-noe-BAR-bih-tal) Rx only.
Brand Name: CROPRAM


PHENOBARBITONE 15mg / 30 mg / 60 mg & 100 mg (FOR EXPORT)
Relaxing.
30 pills
Manufacturer - TAJ PHARMACEUTICAL INDUSTRY, INDIA
Also known as: Phenobarbitone Actavis, Phenobarbitone - Kimia farma, Phenobarbitol, Phenobarbitone tablets USP, Primidone, Barbit, Phenobarbitone Bristol Labs, Servira
Composition:
Active Ingredient:
Each tablet contains:
Phenobarbitone 100 mg , Excipients Q.S.
Inactive Ingredients:
Phenobarbitone 100 mg:
Starch, Talk, Croscarmellose sodium, Lactose, Carboxymethylcellulose sodium, Microcrystalline cellulose, Magnesium stearate, Acacia, Aerosil 200, Methyl paraben sodium.
Pharmacological Group:
Barbiturates group.
Therapeutic Activity:
Acts as a sedative and hypnotic in short-term treatment of insomnia.
Side effects:
Rash, erythema multiforme, lumps in the armpits or groin area; fever, swelling of the face, lips, throat and tongue, pilling and swelling of the skin; swallowing and/or breathing difficulties; altered numbers and type of blood cells; bone diseases including softening, osteopenia and osteoporosis; restlessness, confusion, unusual excitement, depression, memory impairment, hallucinations; hyperactivity, behavioral disturbances in children, jerky movements, jerky eye movements, lethargy, drowsiness; low blood pressure; changes in urination, inflammation of the liver, jaundice; Stevens-Johnson Syndrome.
Storage:
Should be stored in dark dry place below 25°C.
Manufacturer:
Taj Pharmaceutical Industries Ltd., India.

Phenobarbitone is used for:
Treating and preventing seizures, and treating sleep disorders. It may also be used for other conditions as determined by your doctor. Phenobarbitone is a barbiturate. It works by depressing the central nervous system or brain. In low doses, it causes mild sedation. As the dose increases, it can cause sleep and even coma. As it causes the brain to relax, it also decreases seizure activity. Phenobarbitone is a barbiturate, nonselective central nervous system depressant which is primarily used as a sedative hypnotic and also as an anticonvulsant in subhypnotic doses.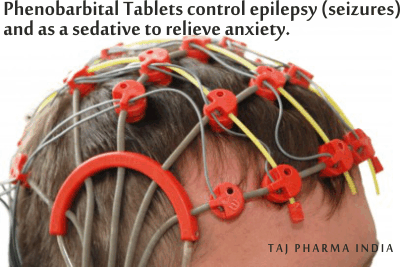 Do NOT use Phenobarbitone if:
you are allergic to any ingredient in Phenobarbitone
you have a history of the blood disorder porphyria
you are taking methoxyflurane, sodium oxybate (GHB), or voriconazole
you consume alcohol
you have liver problems or lung disease with breathing problems

Contact your doctor or health care provider right away if any of these apply to you.
Before using Phenobarbitone:

Some medical conditions may interact with Phenobarbitone. Tell your doctor or pharmacist if
you have any medical conditions, especially if any of the following apply to you:

if you are pregnant, planning to become pregnant, or are breast-feeding
if you are taking any prescription or nonprescription medicine, herbal preparation, or dietary
supplement
if you have allergies to medicines, foods, or other substances
if you have depression, pain, breathing problems, suicidal tendencies, or are in shock
if you have a history of substance abuse or dependence

Some MEDICINES MAY INTERACT with Phenobarbitone. Tell your health care provider if you are taking any other medicines, especially any of the following:

Ethanol , MAO inhibitors (eg, phenelzine), quinine, sodium oxybate (GHB), stiripentol, or valproic acid because side effects such as increased sedation and difficulty breathing may occur
Ethanol, methoxyflurane, orsodium oxybate because the risk of their side effects may be increased by PhenobarbitoneAnticoagulants (eg, warfarin), beta-blockers (eg, propranolol), clozapine, corticosteroids (eg, hydrocortisone), cyclosporine, doxorubicin, doxycycline, estrogens (eg, estradiol), imatinib, metronidazole, steroidal contraceptives (eg, birth control pills), theophylline, or voriconazole because their effectiveness may be decreased by Phenobarbitone.

This may not be a complete list of all interactions that may occur. Ask your health care provider if Phenobarbitone may interact with other medicines that you take. Check with your health care provider before you start, stop, or change the dose of any medicine.

Why is this medication prescribed?
Phenobarbitone, a barbiturate, is used to control epilepsy (seizures) and as a sedative to relieve anxiety. It is also used for short-term treatment of insomnia to help you fall asleep.This medication is sometimes prescribed for other uses; ask your doctor or pharmacist for more information.
How to use Phenobarbitone:

Use Phenobarbitone as directed by your doctor. Check the label on the medicine for exact dosing instructions. Take Phenobarbitone by mouth with or without food.Do not suddenly stop taking Phenobarbitone or change the dose without checking with your doctor. If you miss a dose of Phenobarbitone, take it as soon as possible. If it is almost time for your next dose, skip the missed dose and go back to your regular dosing schedule. Do not take 2 doses at once.

ASK YOUR HEALTH CARE PROVIDER ANY QUESTIONS YOU MAY HAVE ABOUT HOW
TO USE Phenobarbitone. IMPORTANT SAFETY INFORMATION:

Side effects from Phenobarbitone may occur and include:



drowsiness


headache


dizziness


depression


excitement (especially in children)


upset stomach


omitting





OTHER DETAIL INFORMATION :

Phenobarbitone, a long-acting barbiturate, is a central nervous system depressant. In ordinary doses, the drug acts as a sedative and anticonvulsant. Its onset of action occurs within 30 minutes, and the duration of action ranges from 5 to 6 hours. It is detoxified in the liver.

Phenobarbitone is indicated for use as a sedative or anticonvulsant.

Phenobarbitone is contraindicated in patients who are hypersensitive to barbiturates. In such patients, severe hepatic damage can occur from ordinary doses and is usually associated with dermatitis and involvement of parenchymatous organs. A personal or familial history of acute intermittent porphyria represents one of the few absolute contraindications to the use of barbiturates. Phenobarbitone is also contraindicated in patients with marked impairment of liver function, or respiratory disease in which dyspnea or obstruction is evident. It should not be administered to persons with known previous addiction to the sedative/hypnotic group, since ordinary doses may be ineffectual and may contribute to further addiction.
IN SMALL DOSES, THE BARBITURATES MAY INCREASE THE REACTION TO PAINFUL STIMULI. TAKEN BY THEMSELVES, THE BARBITURATES CANNOT BE RELIED UPON TO RELIEVE PAIN OR EVEN TO PRODUCE SEDATION OR SLEEP IN THE PRESENCE OF SEVERE PAIN.
Barbiturates induce liver microsomal enzyme activity. This accelerates the biotransformation of various drugs and is probably part of the mechanism of the tolerance encountered with barbiturates. Phenobarbitone, therefore, should be used with caution in patients with decreased liver function. This drug should also be administered cautiously to patients with a history of drug dependence or abuse (see DRUG ABUSE AND DEPENDENCE ).

Oral Sedative Dose, Adults – 30 to 120 mg daily in 2 or 3 divided doses. Children – 6 mg/kg of body weight daily in 3 divided doses.


Oral Hypnotic Dose, Adults – 100 to 320 mg.


Oral Anticonvulsant Dose, Adults – 50 to 100 mg 2 or 3 times daily.


Children – 15 to 50 mg 2 or 3 times daily.


Phenobarbitone Tablets USP 15 mg: White, round, unscored, compressed tablet imprinted "West- ward 445".


Bottles of 1000 tablets.


Phenobarbitone Tablets USP 30 mg: White, round, scored, compressed tablet imprinted "West- ward 450".


Bottles of 1000 tablets.


Bottles of 5000 tablets.


Phenobarbitone Tablets USP 60 mg: White, round, unscored, compressed tablet imprinted "WW- 455".


Bottles of 100 tablets. Bottles of 1000 tablets.


Phenobarbitone Tablets USP 100 mg: White, round, scored, compressed tablet imprinted "WW- 458".


Bottles of 100 tablets. Bottles of 1000 tablets.


Store at 20-25°C (68-77°F) [See USP Controlled Room Temperature]. Protect from light and moisture.

Dispense in a tight, light-resistant container as defined in the USP using a child-resistant closure
Phenobarbitone may be habit forming:
Tolerance, psychological dependence, and physical dependence may occur especially following prolonged use of high doses of Phenobarbitone. As tolerance to Phenobarbitone develops, the amount needed to maintain the same level of intoxication increases; tolerance to a fatal dosage, however, does not increase more than two-fold. As this occurs, the margin between an intoxicating dosage and fatal dosage becomes smaller.

Symptoms of acute intoxication with Phenobarbitone include unsteady gait, slurred speech, and sustained nystagmus. Mental signs of chronic intoxication include confusion, poor judgment, irritability, insomnia, and somatic complaints.

Symptoms of Phenobarbitone dependence are similar to those of chronic alcoholism. If an individual appears to be intoxicated with alcohol to a degree that is radically disproportionate to the amount of alcohol in his or her blood, the use of barbiturates should be suspected. The lethal dose of a barbiturate is far less if alcohol is also ingested. The symptoms of Phenobarbitone withdrawal can be severe and may cause death. Minor withdrawal symptoms may appear 8 to 12 hours after the last dose of Phenobarbitone. These symptoms usually appear in the following order: anxiety, muscle twitching, tremor of hands and fingers, progressive weakness, dizziness, distortion in visual perception, nausea, vomiting, insomnia, and orthostatic hypotension. Major withdrawal symptoms (convulsions and delirium) may occur within 16 hours and last up to 5 days after abrupt cessation of this drug. Intensity of withdrawal symptoms gradually declines over a period of approximately 15 days. Individuals susceptible to Phenobarbitone abuse and dependence include alcoholics and opiate abusers, as well as other sedative- hypnotic and amphetamine abusers.

Drug dependence on Phenobarbitone arises from repeated administration of the barbiturate or an agent with barbiturate- like effect on a continuous basis, generally in amounts exceeding therapeutic dose levels. The characteristics of drug dependence on Phenobarbitone include: (a) a strong desire or need to continue taking the drug, (b) a tendency to increase the dose, (c) a psychic dependence on the effects of the drug related to subjective and individual appreciation of those effects, and (d) a physical dependence on the effects of the drug requiring its presence for maintenance of homeostasis and resulting in a definite, characteristic, and self-limited abstinence syndrome when the drug is withdrawn.

Treatment of Phenobarbitone dependence consists of cautious and gradual withdrawal of the drug. One method involves substituting a 30 mg dose of Phenobarbitone for each 100 to 200 mg dose that the patient has been taking. The total daily amount of Phenobarbitone is then administered in 3 to 4 divided doses, not to exceed 600 mg daily. Should signs of withdrawal occur on the first day of treatment, a loading dose of 100 to 200 mg of Phenobarbitone may be administered IM in addition to the oral dose. After stabilization on Phenobarbitone, the total daily dose is decreased by 30 mg a day as long as withdrawal is proceeding smoothly. A modification of this regimen involves initiating treatment at the patient's regular dosage level and decreasing the daily dosage by 10 percent if tolerated by the patient.

Infants physically dependent on Phenobarbitone may be given a lower dose of Phenobarbitone at 3 to 10 mg/kg/day. After withdrawal symptoms (hyperactivity, disturbed sleep, tremors, hyperreflexia) are relieved, the dosage of Phenobarbitone should be gradually decreased and completely withdrawn over a 2-week period.

DRUG INTERACTIONS
Most reports of clinically significant drug interactions occurring with the barbiturates have involved Phenobarbitone.

1. Anticoagulants: Phenobarbitone lowers the plasma levels of dicumarol (name previously used: bishydorxycoumarin) and causes a decrease in anticoagulant activity as measured by the prothrombin time. Phenobarbitone can induce hepatic microsomal enzymes resulting in increased metabolism and decreased anticoagulant response of oral anticoagulants (e.g., warfarin, acenocournarol, dicumarol, and phenprocoumon). Patients stabilized on anticoagulant therapy may require dosage adjustments if Phenobarbitone is added to or withdrawn from their dosage regimen.

2. Corticosteroids: Phenobarbitone appears to enhance the metabolism of exogenous corticosteroids probably through the induction of hepatic microsomal enzymes. Patients stabilized on corticosteroid therapy may require dosage adjustments if Phenobarbitone is added to or withdrawn from their dosage regimen.

3. Griseofulvin: Phenobarbitone appears to interfere with the absorption of orally administered griseofulvin, thus decreasing its blood level. The effect of the resultant decreased blood levels of griseofulvin on therapeutic response has not been established. However, it would be preferable to avoid concomitant administration of these drugs.

4. Doxycycline: Phenobarbitone has been shown to shorten the half- life of doxycycline for as long as 2 weeks after barbiturate therapy is discontinued. This mechanism is probably through the induction of hepatic microsomal enzymes that metabolize the antibiotic. If Phenobarbitone and doxycycline are administered concurrently, the clinical response to doxycycline should be monitored closely.

5. Phenytoin, sodium valproate, valproic acid: The effect of Phenobarbitone on the metabolism of phenytoin appears to be variable. Some investigators report an accelerating effect, while others report no effect. Because the effect of Phenobarbitone on the metabolism of phenytoin is not predictable, phenytoin and Phenobarbitone blood levels should be monitored more frequently if these drugs are given concurrently. Sodium valproate and valproic acid appear to decrease Phenobarbitone metabolism; therefore, Phenobarbitone blood levels should be monitored and appropriate dosage adjustments made as indicated.

6. Central nervous system depressants: The concomitant use of other central nervous system depressants including other sedatives or hypnotics, antihistamines, tranquilizers, or alcohol, may produce additive depressant effects.

7. Monoamine oxidase inhibitors (MAOIs): MAOIs prolong the effects of Phenobarbitone probably because metabolism of the Phenobarbitone is inhibited.

8. Estradiol, estrone, progesterone and other steroidal hormones: Pretreatment with or concurrent administration of Phenobarbitone may decrease the effect of estradiol by increasing its metabolism. There have been reports of patients treated with antiepileptic drugs (e.g., Phenobarbitone) who became pregnant while taking oral contraceptives. An alternate contraceptive method might be suggested to women taking Phenobarbitone.

WARNINGS
1. Habit forming: Phenobarbitone may be habit forming. Tolerance, psychological and physical dependence may occur with continued use. (See ADVERSE REACTIONS: Drug Abuse and Dependence). To minimize the possibility of overdosage or the development of dependence, the prescribing and dispensing of sedative-hypnotic barbiturates should be limited to the amount required for the interval until the next appointment. Abrupt cessation after prolonged use in the dependent person may result in withdrawal symptoms, including delirium, convulsions, and possibly death. Phenobarbitone should be withdrawn gradually. (See ADVERSE REACTIONS: Drug Abuse and Dependence.)

2. Acute or chronic pain: Caution should be exercised when Phenobarbitone is administered to patients with acute or chronic pain, because paradoxical excitement could be induced or important symptoms could be masked. However, the use of Phenobarbitone as a sedative in the postoperative surgical period and as an adjunct to cancer chemotherapy is well established.

3. Use in pregnancy: Phenobarbitone can cause fetal damage when administered to a pregnant woman. Retrospective case-controlled studies have suggested a connection between the maternal consumption of Phenobarbitone and higher than expected incidence of fetal abnormalities. Following oral administration, Phenobarbitone readily crosses the placental barrier and is distributed throughout fetal tissues with highest concentrations found in the placenta, fetal liver, and brain.

Withdrawal symptoms occur in infants born to mothers who receive Phenobarbitone throughout the last trimester of pregnancy. (See ADVERSE REACTIONS: Drug Abuse and Dependence.) If this drug is used during pregnancy, or if the patient becomes pregnant while taking this drug, the patient should be apprised of the potential hazard to the fetus.

4. Synergistic effects: The concomitant use of alcohol or other CNS depressants may produce additive CNS depressant effects.

PRECAUTIONS
General
Phenobarbitone may be habit forming. Tolerance and psychological and physical dependence may occur with continuing use. (See ADVERSE REACTIONS: Drug Abuse and Dependence.) Phenobarbitone should be administered with caution, if at all, to patients who are mentally depressed, have suicidal tendencies, or a history of drug abuse. Elderly or debilitated patients may react to Phenobarbitone with marked excitement, depression, and confusion. In some persons, Phenobarbitone repeatedly produces excitement rather than depression.

In patients with hepatic damage, Phenobarbitone should be administered with caution and initially reduced doses. Phenobarbitone should not be administered to patients showing the premonitory signs of hepatic coma.

Laboratory Tests
Prolonged therapy with Phenobarbitone should be accompanied by periodic laboratory evaluation of organ systems, including hematopoietic, renal, and hepatic systems (See General - above and ADVERSE REACTIONS.)

Carcinogenesis
Human-data: A retrospective study of 84 children with brain tumors matched to 73 normal controls and 78 cancer controls (malignant disease other than brain tumors) suggested an association between exposure to barbiturates prenatally and an increased incidence of brain tumors.

Pregnancy
Teratogenic effects: Pregnancy Category D. (See WARNINGS Use in Pregnancy.)

Nonteratogenic effects: Reports of infants suffering from long- term Phenobarbitone exposure in utero included the acute withdrawal syndrome of seizures and hyperirritability from birth to a delayed onset of up to 14 days. (See ADVERSE REACTIONS: Drug Abuse and Dependence.)

Labor and Delivery
Hypnotic doses of Phenobarbitone do not appear to significantly impair uterine activity during labor. Full anesthetic doses of Phenobarbitone decrease the force and frequency of uterine contractions. Administration of sedative-hypnotic Phenobarbitone to the mother during labor may result in respiratory depression in the newborn. Premature infants are particularly susceptible to the depressant effects of Phenobarbitone. If Phenobarbitone is used during labor and delivery, resuscitation equipment should be available.

Data are currently not available to evaluate the effect of Phenobarbitone on the later growth, development, and functional maturation of the child.

Nursing Mothers
Caution should be exercised when Phenobarbitone is administered to a nursing woman since small amounts of Phenobarbitone are excreted in the milk.