INDICATIONS
Carvedilol is a non-selective beta blocker/alpha-1 blocker indicated in the treatment of mild to moderate congestive heart failure (CHF).

Heart Failure

Cardivas Tablet is indicated for the treatment of mild-to-severe chronic heart failure of ischemic or cardiomyopathic origin, usually in addition to diuretics, ACE inhibitors, and digitalis, to increase survival and, also, to reduce the risk of hospitalization.

Left Ventricular Dysfunction Following Myocardial Infarction
Cardivas Tablet is indicated to reduce cardiovascular mortality in clinically stable patients who have survived the acute phase of a myocardial infarction and have a left ventricular ejection fraction of ≤ 40% (with or without symptomatic heart failure).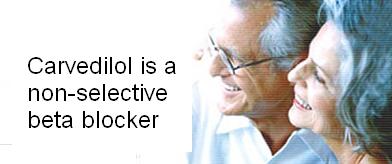 Hypertension
Cardivas Tablet is indicated for the management of essential hypertension

Dosage
Carvedilol comes as a tablet and an extended-release to take by mouth. The tablet is usually taken twice a day with food. The extended-release capsule is usually taken once a day in the morning with food. Try to take carvedilol at around the same time(s) every day.

Do not chew or crush the capsules, and do not divide the beads inside a capsule into more than one dose. If you are unable to swallow the capsules, you may carefully open a capsule and sprinkle all of the beads it contains over a spoonful of cool or room temperature applesauce. Swallow the entire mixture immediately without chewing.

Carvedilol may help to control your condition but will not cure it. Continue taking carvedilol even if you feel well. Do not stop taking carvedilol without talking to your doctor. If you suddenly stop taking carvedilol, you may experience serious heart problems such as severe chest pain, a heart attack, or an irregular heartbeat. Your doctor will probably want to decrease your dose gradually over 1 to 2 weeks.

SIDE EFFECTS
Dizziness, lightheadedness, drowsiness, diarrhea, or tiredness may occur. If any of these effects persist or worsen, tell your doctor or pharmacist promptly.

To lower your risk of dizziness and lightheadedness, get up slowly when rising from a sitting or lying position. The risk of dizziness is highest within 1 hour after you take your dose. Dizziness is most common when you first start using this drug or any time your doctor increases your dose.

This drug may reduce blood flow to your hands and feet, causing them to feel cold. Smoking may worsen this effect. Dress warmly and avoid tobacco use.

PRECAUTIONS
This medication should not be used if you have certain medical conditions. Before using this medicine, consult your doctor or pharmacist if you have: asthma, certain types of heart rhythm problems (sinus bradycardia, sick sinus syndrome, second- or third-degree atrioventricular block), severe heart failure. This drug may make you dizzy or drowsy or cause you to faint. This is most likely to occur within 1 hour after taking your dose or any time your doctor increases your dose. Use caution while driving, using machinery, or taking part in any other activity that requires alertness. Limit alcoholic beverages.