Composition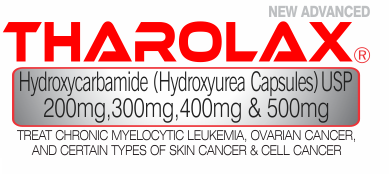 Tharolax ® HYDROXYCARBAMIDE (HYDROXYUREA) USP CAPSULE
200MG,300MG,400MG & 500MG



Each Tharolax ® Hydroxycarbamide (Hydroxyurea) USP capsule contains 200mg,300mg,400mg & 500mg of the active ingredient hydroxycarbamide.
The other ingredients are citric acid anhydrous, erythrosine (E127), gelatin, indigotine (E132), lactose monohydrate, magnesium stearate, sodium laurilsulfate, sodium phosphate, titanium dioxide.

PRESCRIBED FOR: HYDROXYUREA IS USED TO TREAT SEVERAL TYPES OF CANCER INCLUDING CHRONIC MYELOGENOUS LEUKEMIA (CML), ACUTE MYELOGENOUS LEUKEMIA (AML), HEAD AND NECK CANCER, MALIGNANT MELANOMA, OVARIAN CANCER, AND POLYCYTHEMIA VERA (A DISORDER OF THE BONE MARROW).

The name of your medicine is Tharolax ® Hydroxycarbamide (Hydroxyurea) USP. Each capsule contains hydroxycarbamide as the active ingredient. Hydroxycarbamide belongs to a group of medicines called anti-neoplastic medicines. These medicines interfere with the growth of cancer cells.
Tharolax ® Hydroxycarbamide (Hydroxyurea) USP is used to treat some types of cancer such as cervical cancer and a type of leukaemia called chronic myeloid leukaemia (CML). The precise reason why you are being given Tharolax ® Hydroxycarbamide (Hydroxyurea) USP is best discussed with your doctor.

Always take this medicine exactly as your doctor or pharmacist has told you. Check with your doctor or pharmacist if you are not sure.
You may be instructed to take your medicine on either a daily basis or an irregular basis.
The recommended dose is 20-30mg of Tharolax ® Hydroxycarbamide (Hydroxyurea) USP per kg of your bodyweight once a day or 80 mg per kg of your body weight once every third day.
Elderly patients may be more sensitive to the effects of Tharolax ® Hydroxycarbamide (Hydroxyurea) USP and may be given a lower dose.
You can take this medicine at any time of the day, before or after meals. The capsules should be swallowed whole with a glass of water. However if you find it difficult to swallow them, the contents of the capsule can be emptied into a glass of water and taken immediately. If some of the powder floats on the surface of the water, DO NOT WORRY this is just filler from the capsule. DO NOT inhale the contents of the capsules and if you spill any on the skin wipe it immediately.
While you are being treated with Tharolax ® Hydroxycarbamide (Hydroxyurea) USP it is important that you drink plenty of fluids. This will help your kidneys work well.
If you are going to have radiation therapy, this medicine will usually be started 7 days before starting radiation treatment.

You should keep taking your capsules until your doctor tells you to stop.


Do not store your tablets above 25°C

Store in the original package in order to protect from moisture.



Do not use this medicine after the expiry date which is stated on the blister or carton after EXP. The expiry date refers to the last day of that month.

KEEP THIS MEDICINE OUT OF THE SIGHT AND REACH OF CHILDREN.


DO NOT THROW AWAY ANY MEDICINES VIA WASTEWATER OR HOUSEHOLD WASTE. ASK YOUR PHARMACIST HOW TO THROW AWAY MEDICINES YOU NO LONGER USE. THESE MEASURES WILL HELP PROTECT THE ENVIRONMENT.